Awesome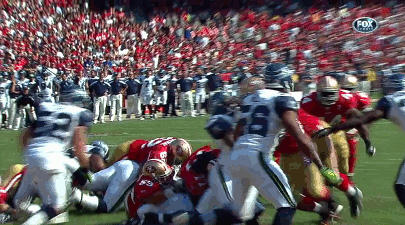 Matt McCoy made a spectacular leaping tackle of Frank Gore in yesterday's game for a loss of two yards. The Seahawks were trailing 16-10 at that point, and had just finished holding the 49ers to a FG after they had a 1st and Goal from the 8-yard-line. A silly penalty call on the field goal attempt gave the 49ers the ball back with a 1st down at the 1-yard-line. Give an NFL team a 1st down from the 1-yard-line, and they are going to score a TD nearly every time. Give it to them immediately after the defense spent a ton of energy stuffing the last goal-line effort? That is a touchdown 99 out of 100 times. The 1 out of 100 came on Sunday.
The play starts with the 49ers lined up in a 3-TE set. One of the TEs motions across the line of scrimmage and Earl Thomas (#29) drags across with him. This removes one defender from the hole the 49ers intend to run through. Of note for the Seahawks is Clinton McDonald (#69, the player received in the Kelly Jennings trade) playing nose tackle, Atari Bigby (#27) as the third safety, and McCoy (#52) in place of K.J. Wright.
McDonald and Alan Branch (#99) make their presence felt immediately after the ball is snapped, collapsing the entire right side of the 49ers line. McDonald, in particular, gets terrific penetration into the 49ers back-field. His play ensured Gore had no chance to cut back. Brandon Mebane (#92) and Chris Clemons (#91) were being double-teamed and driven back into the end-zone. Kam Chancellor (#31) was moving up to meet the fullback in the back-field for the second-best collision of the play. McCoy, Aaron Curry (#59) and Leroy Hill (#56) were flowing toward the play. McCoy takes two steps before launching himself from just inside the goal line.
Chancellor yields no ground to the fullback. It was not as flashy as what McCoy was about to do, but it was every bit as critical to the stop. As Gore (#21) reaches the pile-up caused by Chancellor, McCoy completes his cross-country trip through the air by slamming into the running back. Gore crumples to the ground under a pile of McCoy, Chancellor and Curry.
The result of the play was a loss of two yards, turning 1st and Goal at the 1-yard-line into 2nd and Goal at the 3. On the very next play, McDonald repeats his submarine job, Alan Branch slides down the line to make the tackle, McCoy undercuts his blocker and Chancellor take the fullback and slams him to the ground like a rag-doll for a loss of another yard. The drive ends with Gore falling a few feet short of the end-zone. Chancellor was in on that tackle as well. Outstanding run defense by the Seahawks.