You can forgive the Seahawks if they seem resistant to embracing the 2014 season. After all, they just won their first Super Bowl in franchise history, and have every right to savor it. But sooner or later, they are going to be forced to add a meaningful new name to their roster and acknowledge that it will be a fusion of the new and the not-yet-old talent that provides them an opportunity to drag their feet again in a year. A mostly quiet free agency period was followed by a completely quiet first round of the draft for Seattle, who chose to trade their first round pick to the Minnesota Vikings for the second year in a row. There is no word as to whether the Seahawks requested to look at the hips of the 40th (2nd round) and 108th (4th round) picks they received in return. Pete Carroll and John Schneider may just force fans to wait again when their choices come around today, but rest assured, they will eventually pick someone. And history suggests whoever they nab in the second round is going to be pretty good.
Seattle has had three second round picks in the four drafts since Carroll and Schneider took over. They took Golden Tate in 2010, did not have a second-round pick in 2011, took Bobby Wagner in 2012, and Christine Michael last year. The dynamic front office duo has other history to learn from beyond taking ultra-talented players in round two.
This is a round where the Seahawks have shown they like to move back and acquire additional picks in the later rounds. They have done that the past two years with great success.
In 2012, Schneider moved back four spots from #43 to #47 and picked up the 154th (5th round) and 232nd (7th) picks. They drafted Wagner (47), Korey Toomer (154), and Greg Scruggs (232) with those choices.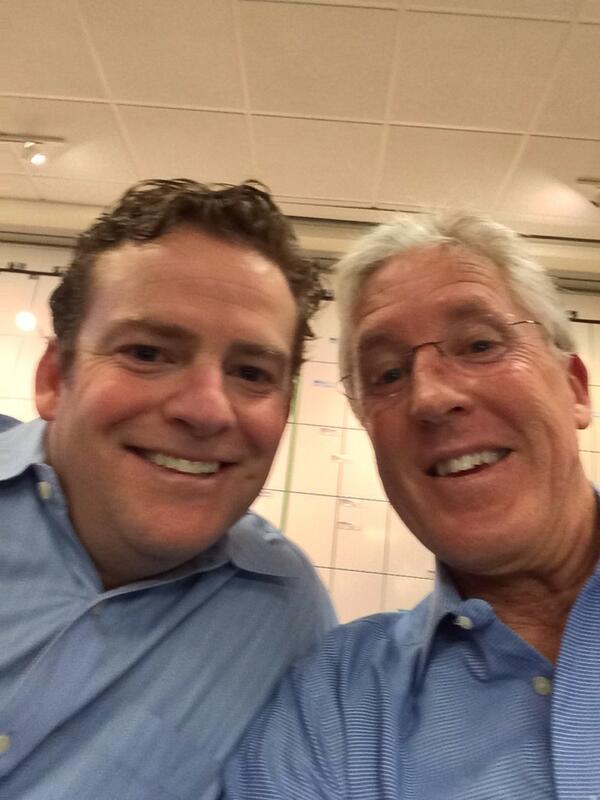 Cheshire cats on draft day
They were able to make that move because there were at least two players, Mychal Kendricks and Wagner, the Seahawks were comfortable taking when their choice at #43 came up. They absolutely needed a starting quality middle linebacker after letting David Hawthorne leave, but made the bet that at least one would still be there if they moved back four spots. They were right, but you better believe they were sweating bullets after the Eagles took Kendricks, who some in the organization have told me was their preferred option.
It was a classic example of taking a risk by moving back, but ending up with a stronger team as a result. Even if Kendricks was a superior player to Wagner—which he is not—the Seahawks are in a much better position now with both Toomer and Scruggs than they would have been with only one viable player added. Toomer has yet to see the field, but Carroll continues to mention him as a player he has his eye on, and he tends to know a thing or two about defense.
Seattle traded back in the second round in 2013 as well. The Ravens gave Seattle the 165th (5th round) and 199th (6th) to move up six spots. It is not as clear which group of players was on Seattle's draft board that made them feel comfortable moving back. Some believe they were targeting Vance McDonald, who the 49ers picked after trading ahead of Seattle. If true, this gambit was appears to have worked out in Seattle's favor again, as McDonald's teammate, Luke Willson, looks like the better player after one season. Later, the Seahawks would trade those 5th and 6th round picks they added from Baltimore to move up 18 spots in the fifth round and select Jesse Williams.
With two picks in the second round today, a bevy of players to choose from, and a real desire to add additional picks, the likelihood of at least one more trade back tonight is pretty high. You can be sure that Schneider was pushing to get the Vikings 7th rounder thrown into last night's trade.
It is not hard to project where Seattle will want to add today. They did not land any blue chip free agents, but they brought in a few blue chippers (Jared Allen, Henry Melton, Jason Hatcher) along the defensive line. Their desire to add more talent to the defensive line did not vanish because those players did not sign. If the Seahawks have any DL high on their board when they pick, they will be less likely to move back.
The other position that got even more important after yesterday is offensive line. St. Louis added defensive tackle Aaron Donald to an already badass defensive line. It is arguably the best d-line in the NFL now, or at least can be. Seattle could instantly get better inside with Michael Bowie and Alvin Bailey stepping into the guard positions, but the team clearly needs to add another talented lineman to the mix. He can be either a tackle or a guard, but he needs to be tough and he needs to be good.
The Rams did really well for themselves yesterday, adding two of the toughest players on both sides of the line. Greg Robinson could be an all-timer. Arizona added a hard-hitting safety, and the 49ers picked a player some are calling a safety and some are projecting as a nickel corner. It was one of the night's biggest surprises that they did not use their surplus of picks to move up and grab a big-name corner or receiver. They may be more active today.
Here is a trade value chart for your reference. Each pick is given a relative point value. Using the numbers below, you can see that the Vikings got the slightly better end of the deal yesterday.
It ended up being a quiet night for the world champs. Tonight will go a long way toward determining the shape of the 2014 draft for the Seahawks. It should be fun.