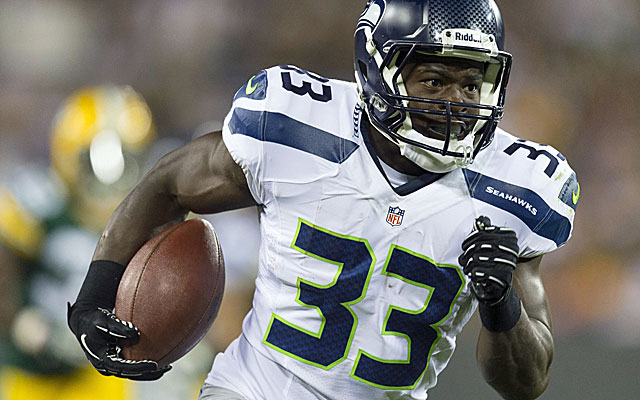 Individuals tend to get the glory, but it is often the combination of talents from multiple players that allow any single player to stand out. Richard Sherman is an All-Pro corner who can seal the edge of the field as well as anyone in the game, but when Earl Thomas is added to the mix to take away the post route and Kam Chancellor is there to assassinate the middle of the field, Sherman's star rises even higher. There were a number of these combinatory headaches for Seahawks opponents last year, including a pair that were custom-ordered. Cliff Avril blazed an arch around the outside of opposing tackles while Michael Bennett was a ball of butcher knives slashing up the middle. The resulting offensive line carnage left many-a-quarterback twitchy and terrorized. There are some new combinations, particularly on offense, that I am looking forward to come training camp. The first of which may prove an unsolvable riddle for defensive coordinators.

Percy Harvin, Marshawn Lynch, Russell Wilson
This group saw the field together precious few times in 2013. Harvin will see a heavy workload this season, and his ability to stretch the field horizontally on fly sweeps was flaunted during the Super Bowl. We have become accustomed to seeing defenses crash the edge when Wilson fakes the give to Lynch on read-option plays. This resulted in some big hits on Wilson. The Broncos ends clearly had that in mind coming into the game, only to see Harvin speed right by them as if they were statues. Defenses can adjust to take away the sweep to Harvin, but that could leave one less defender to tackle Lynch up the middle or Wilson running the opposite direction of Harvin. It the next step in read-option offense, and nobody has the combination of talents to run it that Seattle does.
Harvin, Lynch, Doug Baldwin, Luke Willson
The same threat applies here, but now add in Baldwin facing single coverage on the outside, a place he has consistently won, and Willson threatening the middle. Safeties and linebackers are going to need to commit, and when they do, opens spaces and favorable match-ups will be left for the Seahawks.
Harvin, Christine Michael, Paul Richardson
Speed plus speed plus speed multiplied by the width and length of the football field equals a helluva lot of fun to watch. The are where Michael eclipses Lynch is breakaway speed. Where Lynch may punish a linebacker seven yards downfield and drag him for another five, Michael may be gone before the linebacker even arrives at the spot. He is an explosive receiver out of the backfield as well, giving the Seahawks a chance to threaten the full width of the field. Imagine a fly sweep fake to Harvin that has the defense clenching while Michael leaks out to the opposite side for a swing pass against a single defender. Then add Richardson blazing down the field, appearing to be within a stride of triggering the flux capacitor and traveling back in time to catch a pass from Dave Krieg in the Kingdome. Defenses will get a taste of what it feels like to be drawn and quartered.
Michael, Harvin, Terrelle Pryor, Wilson
Now this one may never happen, but I am fond of getting Pryor on the field as a weapon, and he seems like a great fit at H-Back standing on one side of Wilson in shotgun with Michael flanking him on the other side. More speed. More power. More headaches for the defense to deal with. There may have never been an H-Back with legitimate run-throw options on each snap. The reads would be as simple as possible for Pryor, and his propensity to pull the ball down and run would be desirable in this role. When the coaching staff talks about putting players in position to succeed, this is the type of thing they have in mind.
Cassius Marsh and Bruce Irvin
Even if this duo can be 75% of what Bennett and Avril have combined for on the other side of the line, the Seahawks nickel pass rush could be even better than last season. Yes, Chris Clemons was playing great football the last two games of the season, but he really was not for most of the rest of it. Irvin, if healthy, could be an upgrade. He was most effective in his rookie season when paired with Jason Jones on the interior. That often ran twists that freed Irvin. Marsh is active and aggressive. Jordan Hill is another interior possibility here, but my early money will be on Marsh to earn pass-rushing duties due to his versatility.
OL + Justin Britt or Alvin Bailey
We saw some heavy packages from the Seahawks versus the 49ers in the championship game, where Alvin Bailey reported as a tackle eligible and helped to key Lynch's first touchdown run. Seattle could run out Britt or Bailey again this season, depending on how the offensive line depth chart turns out.