Russell Wilson was a revelation as a rookie. He led the Seahawks to a playoff victory, and very nearly the NFC Championship game. Everyone wants to see what he does in his second season. Some talk of sophomore slumps. This series will explore what history can tell us about just what to expect from Wilson in 2013.
There are many ways to evaluate quarterbacks. Touchdown passes, completion percentage, passing yards, interceptions, passer rating, and ESPN's QBR are among the most popular. The most obvious one is often overlooked–wins. After all, that is why you play the game. Russell Wilson joined a select fraternity of rookie quarterbacks when he quarterbacked his team to eleven wins. Only six players have accomplished that feat, and only one of those players won more than eleven games as a rookie.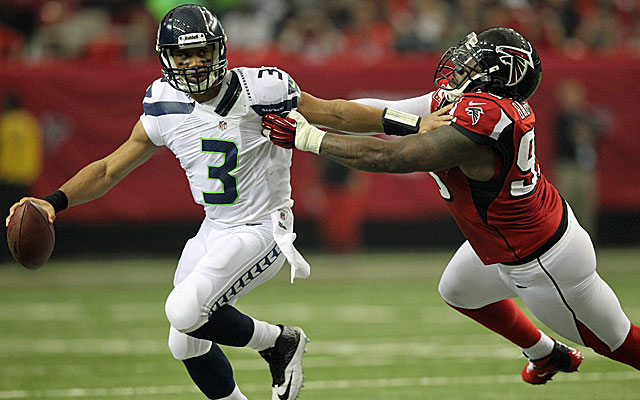 The names on the list are impressive:
Ben Roethlisberger 13-0 (only started 13 games as a rookie)
Andrew Luck 11-5
Matt Ryan 11-5
Joe Flacco 11-5
Dieter Brock 11-4 (Brock played only one season as a 34-year-old Rams rookie)
Russell Wilson 11-5
I was curious how rookie quarterbacks that experienced this kind of success held up to expectations in their second season. As Luck was a rookie last year along with Wilson, and Brock was a single season player, that leaves us with three players to look at.
Roethlisberger
Seahawks fans should remember pretty clearly how Roethlisberger followed up his rookie season. It ended with him hoisting the Lombardi Trophy in Detroit after leading his team to an 11-5 wild card season. He was responsible for a 9-3 record that year as he lost four games to injury. His statistics were nearly identical to his rookie season, with slight improvements in decision-making indicators like interception percentage and sack percentage. There was no evidence of a sophomore slump for him or his team.
Ryan
The Falcons slid to 9-7 in Ryan's second season after his 11-5 rookie campaign, but that was a bit misleading. Ryan was 9-5 as a starter, and the team lost the two games he missed with an injury. Ryan had his worst statistical season as a sophomore, seeing his passer rating drop to 80.9, his yards per attempt drop to 6.0, his completion percentage fail to reach the 60% mark, and his passing yards to fall below 3,000. All of those numbers are career lows through five seasons. This was not just about Ryan backsliding. Michael Turner was hurt for five games and a rushing attack that finished second in the NFL when Ryan was a rookie, was 15th in the NFL in year two. Let's come back to that later. The Falcons failed to make the playoffs after losing in the first round the year before.
Flacco
Flacco's Ravens dropped from 11-5 to 9-7 in his second year. Flacco was certainly not the reason for the slide. He improved his passer rating from 80.3 to 88.9. His sack and interception percentages went down while his touchdown and completion percentage went up. He threw for nearly 700 more yards and raised his yards per attempt. The comparison of the Ravens 2008 and 2009 seasons is a bizarre one as the offense and defense performed at approximately the same levels, but won two fewer games. Five of their losses were by less than a touchdown, so they just didn't get the breaks it would seem. They eventually lost in the second round of the playoffs, a step behind where they finished in Flacco's rookie year.
The rushing attack is a young quarterback's best friend. It forces a defense to stay honest in terms of pass pressure, and puts the team in manageable downs and distances. All three of these rookie winners had an offense ranked in the top five in rushing yards to help them. The one player that saw their performance degrade in their second season, and their team's fortunes along with it, was also the one player that experienced a major drop-off in the running game.
Team Rushing Rank (YDs)
YR 1
Team Rushing Rank (YDs)
YR 2
Ben Roethlisberger
2
5
Matt Ryan
2
15
Joe Flacco
4
5
The Seahawks continue to invest heavily in their running game, spending their second round pick on Christine Michael and additional depth on the offensive line. Throw in Wilson's contribution to the running game, and there is little reason to project a major drop-off in productivity from the running game.
Even Ryan, who took a step back in his second season, rebounded with a vengeance. He led his team to a 13-3 record and division title in his third season, despite a rushing attack that still was middle-of-the-road. The truth is, there is little evidence to suggest rookie winners at the quarterback position are in serious jeopardy of seeing their performance and team record go downhill as sophomores. No rookie quarterback that has won even nine games as a rookie has ever had a team with a losing record in their second season. Chris Chandler's Indianapolis Colts went from 9-7 in his rookie year in 1988 to 8-8 in 1989, but that's as bad as it gets for this class of quarterbacks.
Wilson was among the winningest rookie quarterbacks in NFL history. Some would say the higher you start, the farther you fall. Evidence suggests otherwise when it comes to rookie winners.