In what is becoming the worst-kept secret in Renton, Bruce Irvin is moving to SAM (strongside linebacker). I hinted at this last week, but focused more on K.J. Wright moving to WILL (weakside linebacker). The truth is, I think the Seahawks are going to explore all options. They like Malcolm Smith as WILL in the role Leroy Hill played last year and Smith backed him up in. They will see if Irvin can swing over to SAM. They will see how Wright looks at WILL. How do I know? Deductive reasoning.
John Schneider, Pete Carroll and Dan Quinn have all stated in one form or another that Irvin will be played at SAM to some extent. They have also all stressed that Cliff Avril can play linebacker as well. Avril is not a candidate to play WILL, given it requires someone who can tackle in the open field, shed blockers in space, and can play the run. Take a look at the way a 4-3 under formation sets up in the diagram below: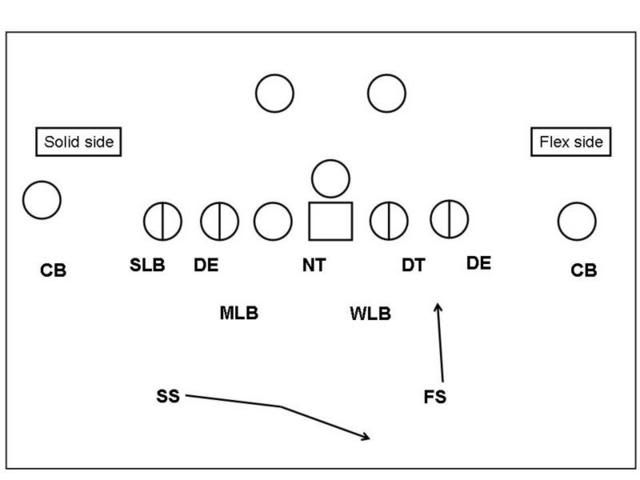 Notice the strongside linebacker (SAM) is lined up directly on the line of scrimmage next the defensive end. That end would always be Red Bryant in the Seahawks defense. The weakside linebacker is off the line of scrimmage, and can play anywhere from behind the defensive tackles to shading outside the right defensive end. Remember that Wright's first career start in the NFL was at middle linebacker. The critical aspect to that WILL spot is being able to hold up against the run as teams are induced into running that direction. An undersized defensive end is over there facing the offense's left tackle, which is generally a better run match-up than going after Bryant and a linebacker standing over Bryant's shoulder.
Wright has a nice skill-set for that role. Now, when the team goes to their Nickel defense–which happens a ton–an extra defensive back comes on the field (Antoine Winfield) and a linebacker leaves. Last year, that was Hill that left. This year, that could be either Irvin or the team could consider pulling Bryant and sliding Irvin or Avril in at left end. The major point being that Wright would stay on the field as much as he did last year, but just from a different spot on the field.
Irvin is incredibly athletic, and putting him in this role means that he won't have to face offensive lineman as much. He can battle tight ends while Bryant takes on the tackle. This can make him a more effective pass rusher, and get him on the field more often. He also has shown the ability in practice to run down ball carriers from behind. He is tenacious. Part of the SAM responsibility is to scrape down the line and pursue the ball carrier. This was one of the few things Aaron Curry did well from the SAM spot. Irvin will still need to improve his technique in setting an edge against the run, but he's got a better chance of accomplishing that against tight ends than left tackles, which would have been his job as a LEO.
It is still not clear where this leaves Cliff Avril. He might be the LEO, but I have heard Quinn and Carroll refer to Michael Bennett as a "base defensive end." Playing Bennett in the base defense means he would be in on first and second down in many cases. The team is not starting him over Bryant, so that really only leaves the other end spot. Bennett is the only end on the team that is plus against the run and can rush the passer. It makes sense that the team would want him on the edge early, and then slide him inside in passing situations to play 3-technique tackle like Jason Jones did last year.
Avril is a mystery at the moment. Could he be battling with Irvin for starting SAM? Would they possibly just play him as a situational pass rusher a la Raheem Brock? That would be a lot of money for a guy that would play only 30% of the snaps. I had, like most, assumed that Avril would start at LEO, that Irvin would reprise his situational pass rush role from last year and that Bennett would play 3-Tech DT in passing situations. All of that is being challenged now, and my best educated guess is that Bennett and Irvin have a clear role in the base defense, while Avril may not. This will be one of the more fascinating aspects to watch unfold as we get reports from OTAs and mini-camps in the coming weeks.
In case you are wondering, the base defense 3-technique defensive tackle needs to be someone stout against the run. That is why the Jesse Williams pick could be so impactful. He has the best chance of any draftee to earn a starting role. That is a part-time role, that comes off the field when Bennett slides in side, but it is crucial to keeping teams like the 49ers from being able to control the game on the ground. Williams will see competition from Tony McDaniel and Clinton McDonald. Bennett will rotate inside with Jordan Hill and Greg Scruggs. Depth will not be the issue.
So while there is plenty still to be discovered, there are some things we can say with confidence: Wright will not see his playing time diminish, Irvin will get a shot at SAM linebacker, and Bennett will get time inside at DT in passing situations. The scenario I've painted above is the most logical way to accomplish those immovable objects, but it is not the only way this could play out. The Irvin experiment could fail, making it more likely that Wright would remain at SAM and Smith would get a chance to start at WILL. Avril could win the SAM spot. Avril could be the starting LEO. There is even some small chance that Bennett will push Bryant at the 5-technique spot, but I have not seen any indication of that. Things get even more confusing when Chris Clemons gets back, and Carroll is making it sound like that is more likely as his recovery is ahead of schedule.
There is reason to cheer for the Irvin experiment to work, as it would mean the Seahawks would have two legitimate pass rushers on the field at all times without sacrificing run defense. They have not managed to do that yet during the Carroll era. It could make for a key improvement to an already vicious defense.