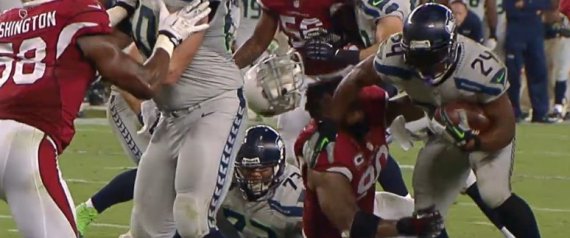 We can try. Convince yourself this game against Arizona is a must-win. Seattle has to win this game, or faces the possibility of losing all they worked for next week versus St. Louis. This Cardinal team is 9-5, won 6 of their last 7 games, and boasts the best rushing defense in the NFL. They enter the game with slim, but real, playoff aspirations, and will put it all on the line against the Seahawks. The problem is that while all that is true, most of that is about Arizona. Allow yourself, for a moment, to imagine a loss to the Cardinals. There would anger and frustration and little trepidation, but would you have any real doubt that the Seahawks would turn around next week and pound the Rams in a game they absolutely needed? Not if you are being honest with yourself. The truth is this game is not about beating the Cardinals, or winning the NFC West or home-field advantage. This game is about taking a step toward regaining the edge that was lost after embarrassing New Orleans.
Toughness is a relative term. Seattle plays with a style and mentality on both sides of the ball that exudes it. There is only one team in the league that can come close to matching the Seahawks in brawn, if not brains, and they reside just a few hundred miles south in San Francisco. Play out the coming weeks in a variety of combinations and the likelihood that the 49ers and Seahawks will stand in each other's playoff path seems more likely than not.
The recipe to beat, and sometimes humiliate, the 49ers involves heavy does of a rushing attack that can take on one of the best front sevens in the NFL and win. Seattle's run game has had trouble beating the likes of Minnesota and New York in recent weeks, let alone Justin Smith and NaVarro Bowman. Welcoming the run defense that leads the NFL statistically this week is a golden opportunity to regain the swagger that has been waning in recent weeks. Another stunted performance would further allow doubt to start creeping in.
Calling yourself a running team, and having your coach say everything starts with that, opens you up to legitimate questions if you cannot run the ball effectively for over a month. This will be like a playoff game for the Cardinals. They will pull out all the stops. Expect fake punts, going for it on fourth down, onsides kicks and a lot of emotion. Seattle can try to trick itself into the "championship opportunity" mentality, but there is no way the Seahawks players and coaches can completely believe their backs are against the wall.
This game will not be won by matching the Cardinals emotion. It will be won be championship level execution and game-planning. A Seahawks team that can grind out yardage on the ground, even if it is a close game, is a team that is properly gearing up for a memorable run in the playoffs.
The rain is already falling. Receivers will be fighting the rain drops as much as defensive backs. A perfect setting for a game to be decided by the play of the big boys up front. Let us see James Carpenter be the road grader he was drafted to be. Maybe we get to see a young Alvin Bailey stake his claim to more playing time if the coaches allow him to sub in for the injured J.R. Sweezy. Russell Okung and Breno Giacomini's return to the lineup has coincided with the challenges in the run game. Prove that is a coincidence, or at least, past tense. Let Max Unger and possibly Marshawn Lynch force Darnell Dockett to do his talking on Twitter.
Return to Seahawks football. Do it against a great defense. Win the West. Win home-field. Begin to armor yourself for the battle ahead. You will need that edge to be sharpened. Your enemies are legion, but they will retreat in fear when your true power is revealed. That begins today.