Star Wars may not open for another two months, but the Seahawks are in need of a Jedi mind trick today, and I think I know just the guy for it. Remember the bombastic Richard Sherman of yesteryear? The guy who trolled Tom Brady on Twitter? The one who talked to trash about Calvin Johnson even after the Lions beat the Seahawks? We need him back. The rest of the world is crumpling up the Seahawks like so much garbage. It is time for our hero and everyone else's villain to emerge. It is time pull the tiger's tail. It is quintessential Richard Sherman time.

A long time ago, in a galaxy far, far away…
Sherman once told me he considered Muhammed Ali to be his idol. Specifically, he liked how Ali talked trash before a fight because it forced him to raise his performance to meet the heightened expectations he had created. It was a tiny bit of insight that proved incredibly valuable as I watched Sherman blossom into the best corner in football from 2011-2014.
There used to be a lot of talk from Sherman before games about specific players or teams or his place in the league hierarchy. It made a lot of people uncomfortable. The media ate it up.
His strategy was carefully orchestrated, and was successful in getting him the spotlight a 5th round pick rarely enjoys. That was only half the equation though. Having all eyes on a player who did not back it up on the field would have never lasted. Sherman backed it up. Every play. Every game. Every matchup.
Only a precious few had any success against him. Stevie Johnson in Buffalo. T.Y. Hilton in Indy. Julio Jones in Atlanta. Even then, he would respond to getting burned with a mocking golf clap or yawn. It was immature, but it also made it clear that nothing was going to shake his confidence. And then Michael Crabtree happened…
The force grows quiet
Everyone remembers the best game in Seahawks history. Seattle beat its nemesis for the honor to represent the NFC in the Super Bowl, which they won handily. The game ended with the San Francisco 49ers driving down the field for what looked like a heart-breaking 4th quarter comeback (ever heard of those?). Colin Kaepernick had the team within striking distance of the goal line and inexplicably decided to loft a pass in Crabtree's direction, who was being covered by Sherman.
The pass was deflected and Malcolm Smith settled under it for an interception. Pandamonium. It was a total team victory, but it was no surprise that the broadcast crew wanted to get Sherman on the air afterwards. He screamed into Erin Andrews mic about Crabtree being mediocre while Andrews looked like she was prepared to use her pepper spray. It went viral. Sherman was labeled a thug. It overshadowed the game almost completely.
I believe it was a calculated decision by Sherman, as it had been so many times before, but he miscalculated. His actions had caused his teammates to be drowned out. His best friend on the team, Doug Baldwin, had the game of his life with over 100 yards receiving and 100 yards in kick returns with the overpriced Percy Harvin still injured. Nobody said a thing about it.
That experience had to change Sherman. He has never been as outlandish or angry or outspoken again. He is now more professorial. He does not take the bait. He is a father now, which has an impact as well. He deserves credit for dialing it back and letting his teammates take on more shine. We just need him to stop that for a while.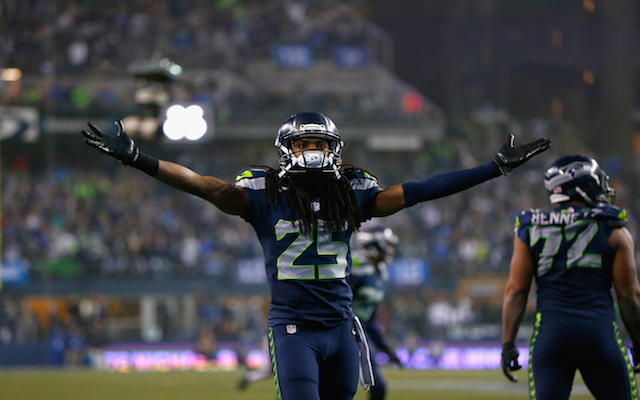 The force reawakens
Imagine what it would be like if Sherman came out this week and proclaimed the Seahawks the best team in football. "We have been ahead of three undefeated teams in the 4th quarter, two on the road, and our own mistakes cost us those games. Of course we are the best."
It would stir fans and media far and wide. Patriots fans would attack him in droves. "You mad bro? #SuperBowlXLIX." Sherman would smile and say, "You mean that game where our entire defense was injured and we were still leading in the 4th quarter and were two feet from beating you? Yeah, I'm pretty sure it's clear we were the better team. We just were not the healthiest that day."
National media would flood Seahawks practices for an easy story. Other Seahawks players would be asked, "Do you agree with Richard Sherman's comments that you guys are the best team in football?"
Earl Thomas would be like, "Of course. Who is better? Is someone saying they are better?"
It would force this team to stand together and remind them what it means to go out and prove yourself every week. It would energize them on the field, and focus them off it.
Even if things continued to spiral downward or the team fell short of their goals, Sherman would bear the brunt of the fallout. Nobody is better equipped to do it.
I respect the way he has altered his image since that fateful 49er game. I just think this team needs him to be the unique leader he is capable of being. Fire the first arrow and then stand front-and-center with a big smile when hundreds are fired back. Be bold. Be brash. Do for this team, what you did for yourself not so long ago. Set the bar high, and force them to reach it.